This was the Norway I had been longing to see and feel. Mountains. Fjords. Lakes. The wetness of the year left many a bog to contend with on our approaches, but the rewards were elevating and worth every bit of lowland suffering. We felt like locals and were even seen by the locals as such much of the time, at least until we spoke. Thus, to prolong the self deception of feeling I was a local, I tried to keep my speech to hi and bye. "Hei, Hei," and, "Ha det." 
JOURNAL ENTRIES
Geitabottstinden.1495: July 25, 2015
"Overall, since Ålesund, time has flown by at an incredible rate. I believe this passing has to do with how much you have to see and experience. 
Today's hike up Geitabottstinden was much like this, if not the most like this. In 7 hours time we hiked up a narrow valley until it ended at a cirque beneath our summit objective's headwall. This cirque reminded me of the Wallowa's cirque beneath Cusick, at the headwaters of the Imnaha River. Up to this point we had walked a 4x trail that was overall quite dry. Now we ascended pillow-like moss covered rocks, boulder fields, and snow slopes to the upper ridge.
High above the valley we'd hiked moments ago, we could see down to Valldal and the fjord, out over the Sunnmøre Alps, a nearby ridge hut, and if the clouds had parted we would have even seen our own cabin down beneath us. We made it to within 50 meters of the summit."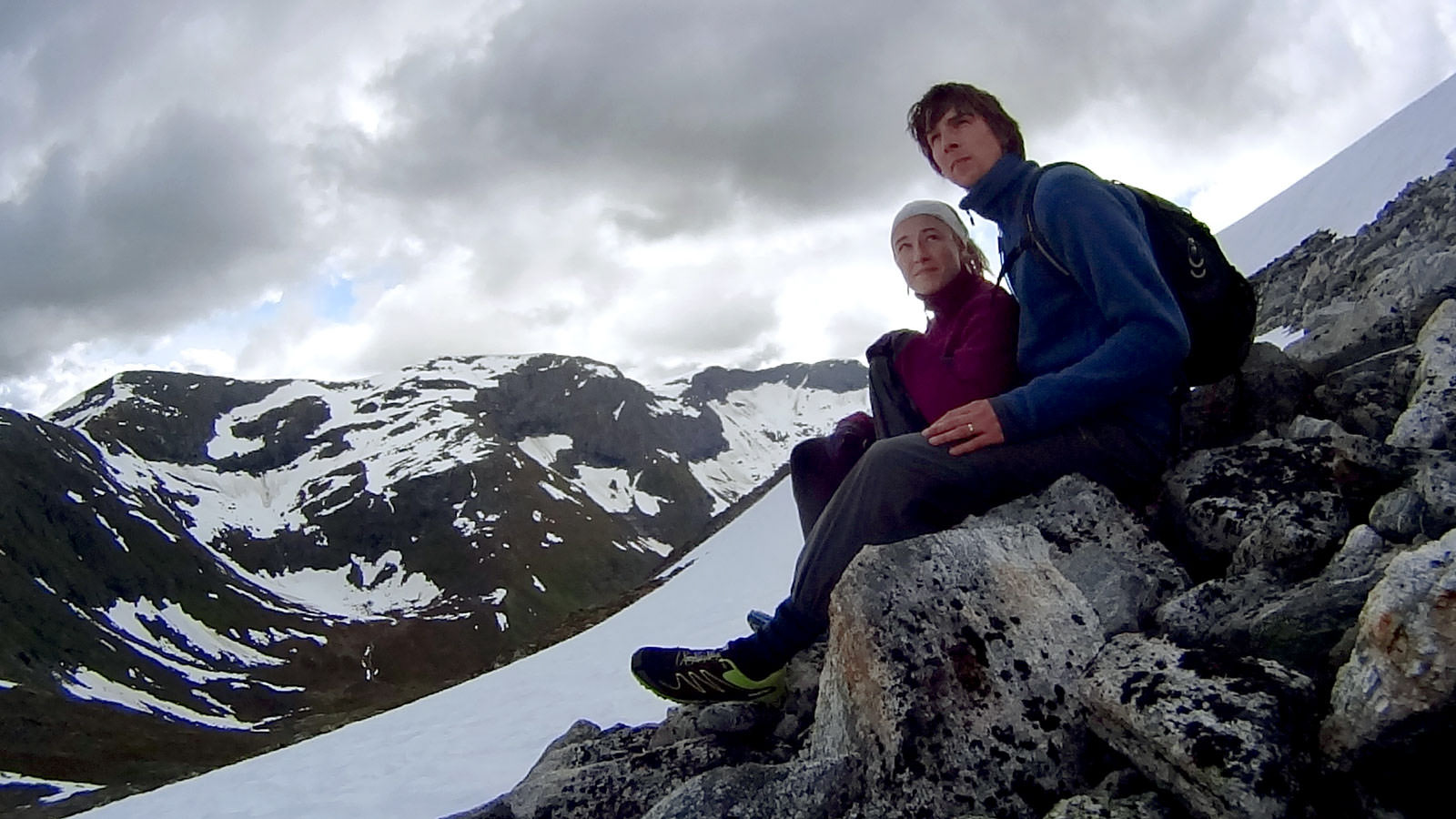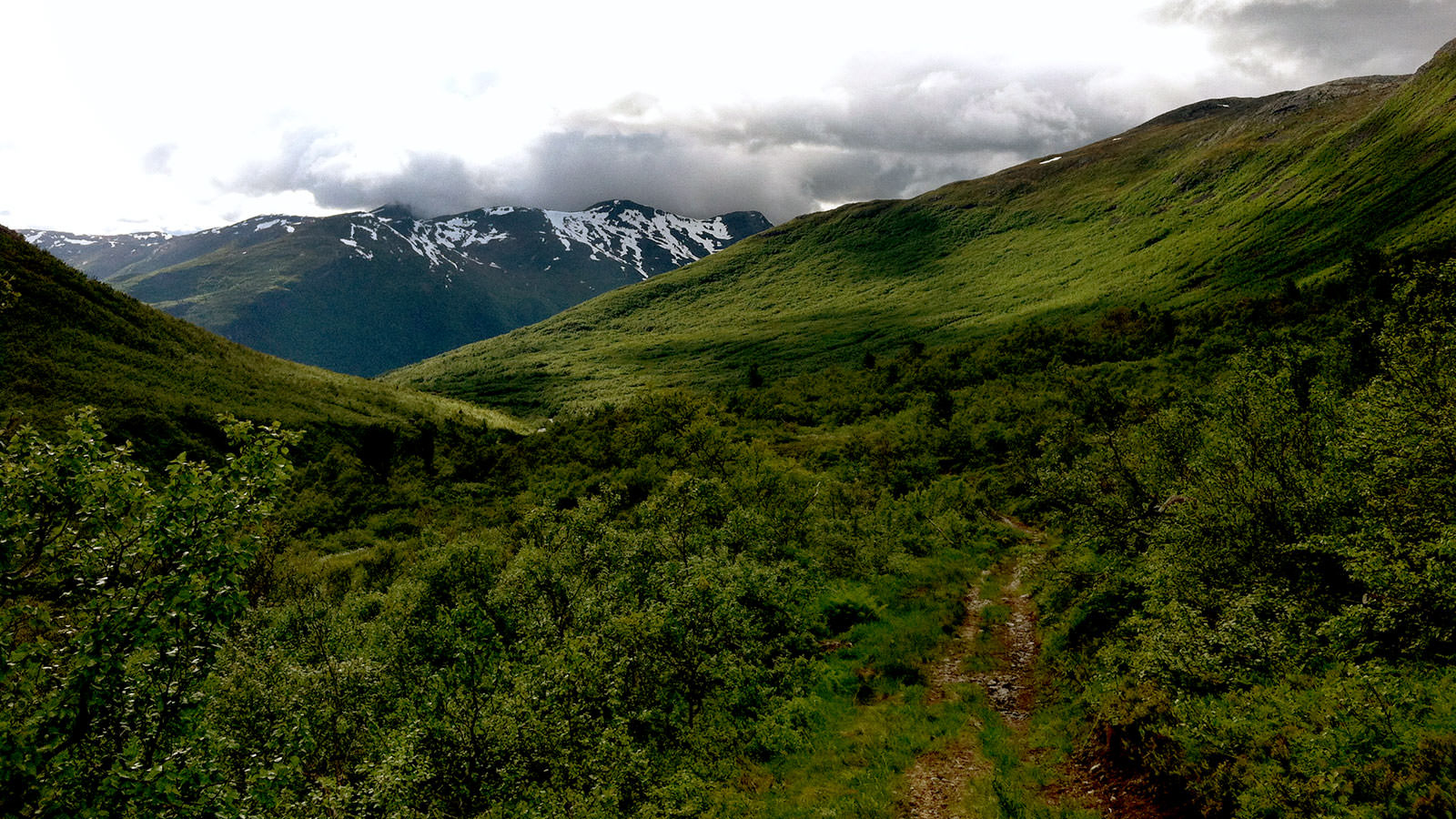 Stordal Gamle Kyrkje: July 26, 2015
"Katy and I visited the old church museum today, and were greeted by a most enthusiastic and knowledgeable girl named Kristiana, from Trondheim. She lives next door to the folk museum, but stays the summer with friends here in Stordal. Much as shared with us, not only about the church's history, but about Norwegian wildlife and culture as well. There exist wolves, brown bear, lynx, and moose in Norway, and none pose much threat except the moose on occasion, and wolves to the farmer's livestock. 
As for the people, they keep strictly to themselves, as quietly as possible, and think a thing like 'chit-chat' to be rather odd, if not skeptical and alarming. They even sometimes are envious of other cultures who find it to easy. This [quiet behavior], however, lies mostly within the culture of the Norwegian people, and does not apply to travelers striking up conversation. It also does not apply to sunny days, or days when skiing in the mountains. Ultimately it sounds to be related to winter depression. Even so, no Norwegian would seem to be found without courtesy. 
The remainder of our day has been in the cabin, witnessing some of the most majestic, awe-inspiring cloud and mountain-scape's mixed with the wonderful colors of an ongoing sunset. Oh the wonder!"
Storådalen Ådalsvatnet: July 27, 2015
"I will sprinkle clean water on you, and you shall be clean from all your uncleannesses, and from your idols I will cleanse you, and I will give you a new heart, and a new spirit I will put within you. And I will remove the heart of stone from your flesh and give you a heart of flesh. … It is not for your sake that I will act, declares the Lord God; let that be known to you. Be ashamed and confounded for your ways, O house of Israel." - Ezekiel 36:25-26, 32
"Finally, a hike that was / is fully Norwegian in striking detail. Just down the valley (up, actually), and in eye sight of the cabin, lies a series of interconnected trails. One leads toward Berill (Oliver's parents cabin), another to Valldal (that could prove a worthy trail run), and another to the backside of a mountain we stare at daily.
It was here we found rushing waters, grazing summer sheep, alpine meadows, iceberg lakes, and a couple of mountain cabin huts equipped with bedding, food and a wood stove, all nestled within the sheer walls of an upper mountain cirque. This is what we have been waiting to see here!!!"
Slogan Summit: July 28, 2015
"A 2 hour hike from Engeset through a fairytale landscape of birch groves, cascading waterfalls of sharp blue, green and grey colors, and the watchful gaze of nearby glaciated summit crags brought Katy and I to the Pachellhytta cabin. 
Besides the 'cabin-hut' resembling a proper lodge, the overall landscape seemed more suitable to trolls and dwarfs, and was the most magically Norwegian place we had yet been. Katy then encouraged me to attempt the daunting climb up Slogen, and so off I went.
The climb is on average 3-5 hours round trip. I set a 1 hour, 45 minute turn around time, and had to my surprise made the summit in 1 hour and 2 minutes. After 10 minutes on the summit I had made it back to Pachellhytta in another 39 minutes. The climb had technical sections, and a lot of exposure, but at my speed I had little time to give it thought. 
The sun remained on Katy and I the entire hike out."
R & R: July 29, 2015
"Know, therefore, that the Lord your God is God, the faithful God who keeps covenant and steadfast love with those who love Him and keep His commandments, to a thousand generations, and repays to their face those who hate him, by destroying them. He will not be slack with one who hates him. He will repay him to his face." - Deuteronomy 7:9-10
"When I had nearly fully descended Slogen yesterday, I had just crossed a large snow bank, and had entered a crossing of narrow streams running through moss covered rocks and alpine tundra. It was here, within shouting distance of the [Pachellhytta] cabin where Katy awaited my safe return, that I felt and heard my ankle crack thrice. Within two seconds I had stopped, wiggled my ankle and toes, tightened my laces as much as possible, and resumed. At the cabin I updated Katy, and in another 10 minutes we were off on our 6 km trek out.
As one might imagine, my ankle was quite stiff come this morning, and as such the day has been spent drinking coffee, stoking a fire, napping, reviving the fire, drinking wine, eating, and reading. 
Just as well. Today's weather is a wet cloud every which way you look."
Tunnels!: July 30, 2015
"Norway has a lot of them, some cutting through mountains, others under fjords, and without them we would see much less of this country. Before the tunnels existed, people living less than 5 km away from one another knew nothing of the other's existence, and with this came several dialects of the language–the history behind the two modern dialects is fascinating, and worth reading up on. For now we are focusing on errands.
Katy and I drove to Ålesund to FINALLY retrieve my phone and re-assess our departure plan south to Stord. Because the weather continues to look like winter, and because we are blessed with a free cabin and car, we decided to skip riding south, and instead take a bus after another week in Stordal. No 9+ km tunnel rides for us, yay!!!"
Lazy Sunday, Friday: July 31, 2015
"If we say we have fellowship with Him while we walk in darkness, we lie and do not practice the truth. But if we walk in the light, as He is in the light, we have fellowship with one another, and the blood of Jesus His son cleanses us from all sin." 1 John 1:6-7
"Slept in today, and eventually woke to a day-long deluge. As such we read, drank much coffee, ate much food, worked on a puzzle, stoked the fire, and listened to John Sebastion and Prine. Finally, come evening, we walked in a bit of sunshine down to the river."
Towering Over Valldal: August 01, 2015
"On our stop in Valldal to Trollstigen we were sorely disappointed to discover that the Grønn Kontact super charge car ports require Norwegian subscriptions we were unable to acquire. Of course we were happy to discover this here, instead of in Åndalsnes–what a mess that would have been. Instead we opted for a local hike up a peak called Ormula, at 1418 meters. The trail was overgrown, and I pulled one tick off Katy (had not yet bitten), but it was a fast climb, as the trail went straight up. Summit views of our valley."
"For the Father loves the Son and shows Him all that He Himself is doing. And greater works than these will He show Him, so that you may marvel. For as the Father raises the dead and gives them life, so also the Son gives life to whom He will. The Father judges no one, but has given all judgement to the Son, that all may honor the Son, just as they honor the Father. Whoever does not honor the Son does not honor the Father who sent Him. Truly, truly, I say to you, whoever hears my words and believes Him who sent me has eternal life. He does not come into judgement, but has passed from death to life." - John 5:20-24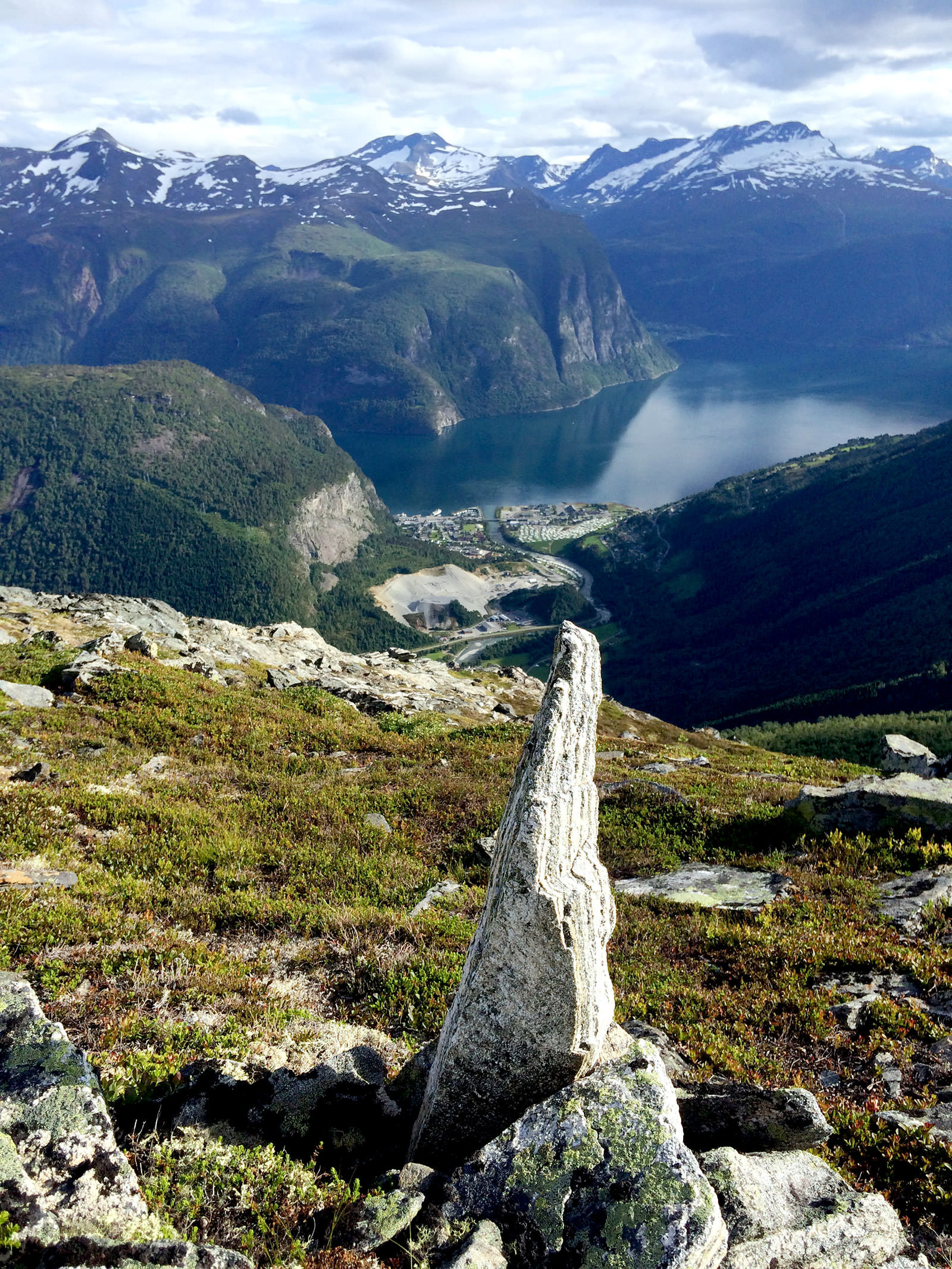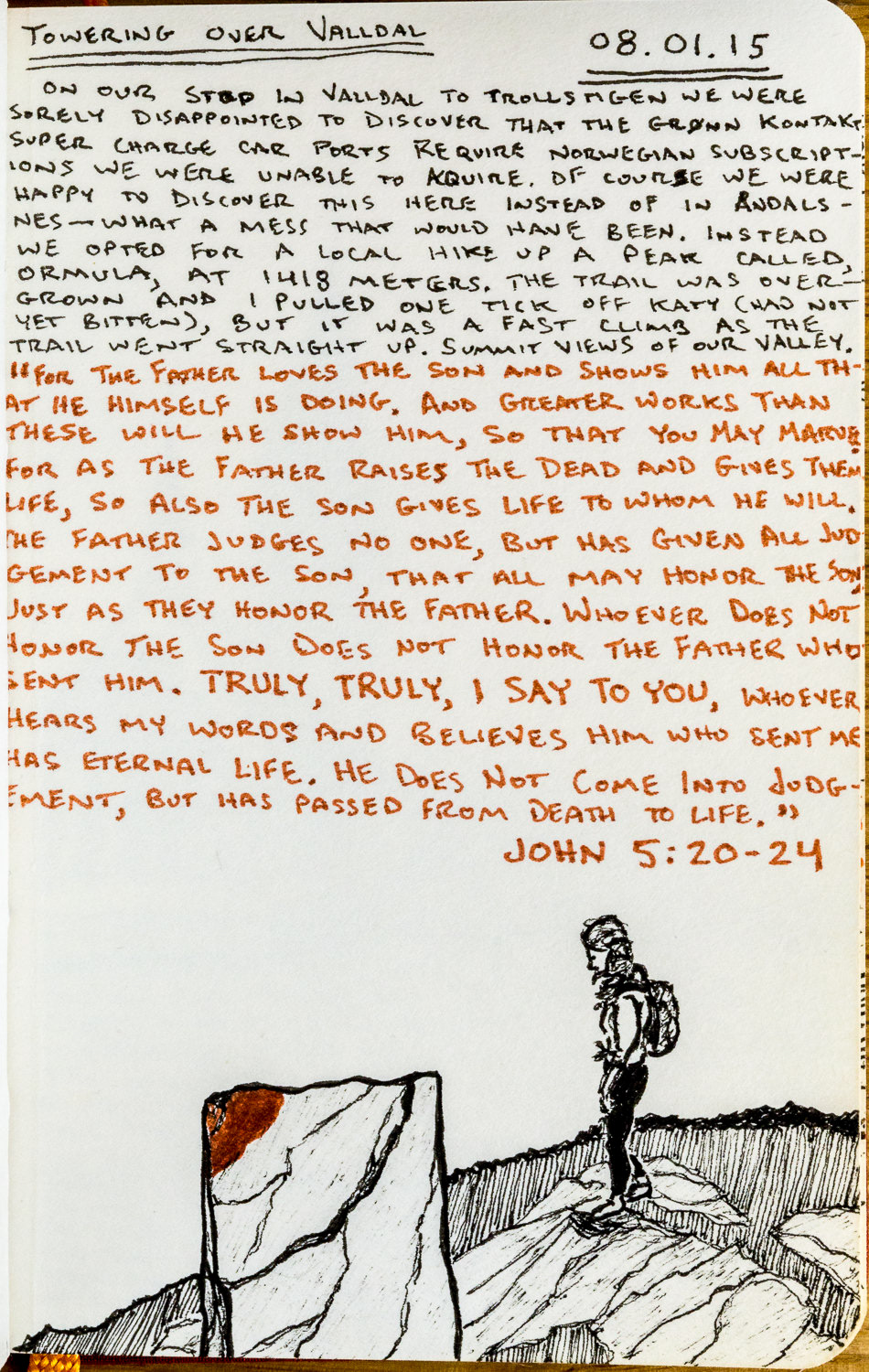 Heim Kirke [Home Church]: August 02, 2015
"Another fine day of rest and rain. I finished the puzzle finally, with the exception of one missing piece. Otherwise it has been a day of reading and naps."
"For when you were slaves of sin, you were free in regard to righteousness. But what fruit were you getting at that time from the things of which you are now ashamed? For the end of those things is death." - Romans 6:20-21
"Do not love the world or the things in the world. If anyone loves the world, the love of the Father is not in him. For all that is in the world–the desires of the flesh and the desires of the eyes and pride in possessions–is not from the Father but is from the world. And the world is passing away along with its desires, but whoever does the will of God abides forever." 1 John 2:15-17
Bogs•Botts•Tinden: August 03, 2015
"I awoke this morning to a bit of a gloomy and heaviness of spirit, despite the valley and mountains basking in sunlight beneath a perfectly blue sky. It has taken me a moment to sort it all out, but I have finally processed my feelings and have come to realize that I simply am missing the richness of our community back home. That, and as any action should go, all this free time is leaving me a little stir-crazy.
To combat these feelings Katy and I went on what looked to be a very reliable hike (Topo map showed dashed lines instead of dotted). Alas! The hike turned bogy and the trail turned us back. At any rater, we did get outside and some exercise. Now back at the cabin I sip red wine and truly intend to read Chesterton tonight.
I miss Katy's parents. My parents. Isaac, Jesse, and Micah. Ean, Turman, Green, Haddad, Pennock, and so many more lovely people that I am so accustomed to seeing nearly daily. 
I am at the same time so grateful for this cabin, and down-time; it is just what it should be."
"For while we were living in the flesh, our sinful passions, aroused by the law, were at work in our members to bear fruit for death. But now we are released from the law, having died to that which held us captive, so that we serve in the new way of the Spirit and not in the old way of the written code." - Romans 7:5-6
"Everyone who makes a practice of sinning also practices lawlessness; sin is lawlessness." 1 John 3:4
An Unexpected Finale: August 04, 2015
"For to set the mind on the flesh is death, but to set the mind on the Spirit is life and peace." - Romans 8:6
"But if Christ is in you, although the body is dead because of sin, the Spirit is life because of righteousness." - Romans 8:10
"Norway is full of hidden surprises. In the past week and a half Katy and I have looked upon the same one valley in four or five new ways. Today we revealed another of these facets while completing another new circuit at the end of the valley. I was full of double takes while we double backed our way around Storlihornet to Kleiva-Vatnet. 
Our original intent to hike Dyrdalen was shut down by the lack of any visible trail, and so we braved the longer trek on its western flank through more bog country simply because here was to be found somewhat of a trail. What began as a questionable sheep path through muddy pastures soon became a rather nice path through the heart of an upper valley called Jolbotnen. Crossing several small mountain streams, and a couple of decent sized ones, brought us to a hidden alpine lake overlooking the Tresfjorden on one side, and hemmed in on all others by rather impressive peaks, except for one small window that looked back at Geitabton far off in the distance.
It's been a very dark grey day, but otherwise eerily calm and warm. The rock cairn pass pictured above, however, was a violently windy place that was exciting."
Better Left Than Found: August 05, 2015
"Light is sweet, and it is pleasant for the eyes to see the sun." - Ecclesiastes 11:7
"This morning's light came with much simplicity and lateness of meeting. It is because of today's task oriented nature that we do feel all the more connected to the area as a home away from home. Having experienced such a lovely hike under windy-warm and moody-dark conditions yesterday also helps to complete our sentiments today.
Time didn't feel wasted doing the little things such as grocery shopping, driving, or cleaning the floors and windows. Rather, on the contrary, it felt all the more authentic and real. Katy and I closed the night with a brief gravel road run, and falafel dinner."